ЛІТЕРАТУРНІ ДАНІ ПРО ВРОДЖЕНІ ВАДИ РОЗВИТКУ ХРЕБТОВОГО СТОВПА ЛЮДИНИ
Ключові слова:
хребтовий стовп, вроджені вади, людина
Анотація
Різні аномалії розвитку хребтового стовпа мають спільні клінічні прояви. Разом з тим кожна вада має певні особливості, що впливають на характер деформації, темпи її прогресування, функцію спинного мозку та можливість появи неврологічних розладів. Наростання деформацій у зоні аномалії може призвести до сегментарної нестабільності на цьому рівні, що в подальшому зумовлює порушення біомеханіки хребта в цілому. Шийний відділ є найрухомішим відділом хребта, що забезпечується будовою атланто-аксіального комплексу та функціональною мобільністю підаксіального відділу. Виявлену аномалію необхідно оцінювати з точки зору ймовірності розвитку нестабільності. Механічна нестабільність проявляється зміщенням хребців за межі фізіологічного об'єму рухів. Неврологічна нестабільність найбільш часто проявляється в субаксіальному відділі хребта, оскільки резервні простори хребтового каналу тут украй невеликі. Вроджені аномалії розвитку грудного відділу хребта, які призводять до деформації, найчастіше трапляються на тлі порушення формування тіл хребців.
Посилання
Vissarionov SV, Bogatyrjov TB, Kokushin DN. Sochetanie skrytyh form spinal'noj dizrafii i vrozhdennyh porokov razvitiya pozvonochnika s anomaliyami vnutrennih organov i sistem u detej [Childhood occult spinal dysraphisms and congenital spine abnormalities concurrent with anomalies in other organs and organ systems]. The Fundamental Researches. 2015;1:1138-42. (in Russian).
Elikbaev G, Khachatryan V, Osipov I, Sarychev S. Epidemiologiya i rannyaya diagnostika vrozhdennykh porokov razvitiya pozvonochnika i spinnogo mozga [Epidemiology and early diagnosis of congenital malformations of spinal column and spinal cord]. Current Pediatrics. 2008;7(4):58-61. (in Russian).
Khusainov NO, Vissarionov SV, Kokushin DN. Khirurgicheskoye lecheniye detey s vrozhdennymi deformatsiyami pozvonochnika na fone mnozhestvennykh porokov razvitiya [Surgical treatment of children with congenital spinal deformities associated with multiple malformations: a literature review]. Hirurgia Pozvonocnika. 2017;14(2):14-20. (in Russian).
Kazaryan IV, Vissarionov SV. Sochetanie vrozhdennyh deformacij pozvonochnika u detej s anomaliyami drugih organov i system [Childhood congenital spinal deformities concurrent with anomalies in other organs and organ systems]. Rossiyskiy Vestnik Perinatologii i Pediatrii. 2012; 5:72-6 (in Russian).
Gubin AV, Ulrikh EV. Poroki razvitiya shejnogo otdela pozvonochnika u detej, soprovozhdayushchiesya nestabil'nost'yu [Unstable cervical spine abnormalities in children]. HHirurgia Pozvonocnika. 2008;(3):16-20. (in Russian).
Gubin AV, Ulrikh EV. Sindromal'nyj podhod k vedeniyu detej s porokami razvitiya shejnogo otdela pozvonochnika [Syndrome Approach to the Treatment of in Children with Cervical Spine Abnormalities]. Hirurhiya Pozvonochnika. 2010;(3):14-19. (in Russian).
Namazova-Baranova LS, Tabe EE, Malakhov OA, Vasil'chenko VV, Taibulatov NI, Chelpachenko OB, et al. Dupleksnoye skanirovaniye sosudov golovnogo mozga i shei u detey s displasticheskoy nestabil'nost'yu sheynogo otdela pozvonochnika [Duplex scanning of cerebral and cervical vessels in children with dysplastic instability of cervical spine]. Detskaya khirurgiya.2013;3:46-9. (in Russian).
Malanchuk RA. Sovremennyye podkhody k klinicheskoy diagnostike i lecheniyu staticheskikh narusheniy pozvonochnika i sustavov [Modern approaches to the clinical diagnosis and treatment of static disorders of the spine and joints]. Mezhdunarodnyy meditsinskiy zhurnal. 2015;2:47-51. (in Russian).
Kobyzev AE, Ryabykh SO. Khirurgicheskoye lecheniye vrozhdennogo stenoza pozvonochnogo kanala pri narushenii segmentatsii pozvonkov grudnogo otdela pozvonochnika [Surgical treatment for congenital spinal canal stenosis associated with failure of segmentation of thoracic vertebrae]. Hirurhiya Pozvonochnika. 2012;(4):55-8. (in Russian).
Riabykh SO, Ulrich EV. Sovremennye podhody k lecheniyu porokov pozvonochnika na fone narusheniya segmentacii u detej [Current approaches to treatment of the spine defects through segmentation disorder in children]. In: Proceedings of the scientific and practical conference with international participation dedicated to the 90th academician G.A. Ilizarov's birthday «Ilizarovskiye chteniya»; 2011 June 8-10; Kurgan. Kurgan; 2011. p. 446. (in Russian).
Hruzyntseva NA, Seniv OYa. Perynatalʹnyy monitorynh ta analiz rannʹoho neonatalʹnoho periodu u novonarodzhenykh z pryrodzhenymy vadamy rozvytku i vysokym ryzykom spadkovoyi patolohiyi [Perinatal monitoring and analysis of the early neonatal period in infants with birth defects and high risk of hereditary pathology]. Tavricheskij mediko-biologicheskij vestnik. 2012;2:90-2. (in Ukrainian).
Mikhaylovskiy MV, Sadovoy MA, Fomichev NG. Klinicheskij diagnoz pacienta s deformaciej pozvonochnika [Clinical diagnosis of a patient with spinal deformity]. Hirurhiya Pozvonochnika. 2017;14(1):24-30. (in Russian).
Omelʹchenko TM. Vrodzheni ta nabuti zakhvoryuvannya khrebta [Congenital and acquired diseases of the spine.]. Litopys travmatolohiyi ta ortopediyi. 2013;3:169-70. (in Ukrainian).
Hunas IV, Pinchuk SV, Shayuk AV. Morfometrychni komp`yuterno-tomohrafichni parametry poperekovoho viddilu khrebta na medianno-sahitalʹnykh zrizakh u praktychno zdorovykh yunakiv i divchat Podillya [Morphometric computed tomographic parameters of the lumbar spine on median-sagittal sections in practically healthy adolescents and girls of Podillya]. Ukrayinsʹkyy morfolohichnyy alʹmanakh. 2013;4:18-21. (in Ukrainian).
Lysenko NS, Demchenko AV, Zlatnik RV. Anomalii razvitiya poyasnichnogo otdela pozvonochnika v sochetanii s vrozhdennym vyvihom bedra [Lumbar spine development anomaly combined with congenital thigh dislocation: case study]. Promeneva dіagnostika, promeneva terapіya. 2015;2:69-71. (in Russian).
Stashkevich АT, Shevchuk AV, Vovk MM. Khirurhichne likuvannya khvorykh na osteokhondroz poperekovoho viddilu khrebta [Surgical treatment of patients with ostechondrosis of lumbar spine]. Visnyk ortopediyi, travmatolohiyi ta protezuvannya. 2013;2:8-13. (in Ukrainian).
Ulrikh ЕV, Mushkin AYu, Gubin AV. Vrozhdennye deformacii pozvonochnika u detej: prognoz ehpidemiologii i taktika vedeniya [Congenital Spine Deformities in Children: Epidemiological Prognosis and Management]. Hirurhiya Pozvonochnika. 2009;(2):55-61. (in Russian).
Shevchenko OA. Spynalʹnyy dizrafizm. Kliniko-nevrolohichni i diahnostychni osoblyvosti. Vypadky z praktyky [Spinal dysphrasism. Clinical-neurological and diagnostic features. Case studies.]. Perinatologiya i pediatriya. 2016;1(65):125-8. (in Ukrainian).
Vissarionov SV, Kazaryan IV, Belyanchikov SM. Lechenie pacientov s sindromom kaudal'noj regressii [Treatment of Patients with Caudal Regression Syndrome]. Hirurhiya Pozvonochnika. 2011;(3):56-9. (in Russian).
Vissarionov SV, Kazaryan IV. Sindrom kaudal'noj regressii [Caudal Regression Syndrome]. Hirurhiya Pozvonochnika. 2010;2:50-5. (in Russian).
Kazaryan IV, Vissarionov SV, Razorenova TS, Larionova VI. Prognozirovaniye kharaktera techeniya vrozhdennoy deformatsii pozvonochnika u detey [Predicting the Natural History of Congenital Spinal Deformity in Children]. Hirurhiya Pozvonochnika. 2013;(4):23-9 (in Russian).
Kravchenko OV. Dinamika vnutrishnoutrobnyh vad rozvytku u strukturi perinatalnoyi smertnosti v Chernivetskiy oblasti [Dynamics of intrauterine malformations in the structure of perinatal mortality in Chernivtsi region]. In: Proceedings of the 3rd Scientific Symposium (2010-2011); Chernivtsi. Chernivtsi; 2012. p. 39. (in Ukrainian).
Kryvetsʹkyy VV, Kryvetsʹka II, Banul BYu. Morfolohichni peredumovy vynyknennya pryrodzhenykh vad khrebtovoho stovpa lyudyny [Morphological prerequisites of occurrence of congenital defects of the spinal column of a person]. Clinical and experimental pathology. 2011;1:83-7. (in Ukrainian).
Melnychuk LV. Problemni pytannia diahnostyky ta likuvannia vrodzhenykh vad u ditei [Problematic questions of diagnostics and treatment of congenital malformations in children]. Clinical anatomy and operative surgery. 2015;14(4):26-9. (in Ukrainian).
Sorokman TV, Lastivka IV, Pidvysotsʹka NI. Chynnyky ryzyku ta poshyrenistʹ urodzhenykh vad rozvytku sered novonarodzhenykh ditey [Risk factors and prevalence of birth defects among newborns]. Aktualʹni pytannya pediatriyi, akusherstva ta hinekolohiyi.2010;2:7-10. (in Ukrainian).
Khachatryan VA, Yelikbayev GM. Otsenka vosstanovleniy funktsii posle operatsii u detey s vrozhdennymi porokami razvitiya pozvonochnika i spinnogo mozga [Assessment of recovery function after surgery in children with congenital malformations of the spine]. Ukrainian Neurosurgical Journal. 2007;3:59-60. (in Russian).
Moiseyenko RО. Analiz zakhvoriuvanosti ditei pershoho roku zhyttia v Ukraini [Analysis to diseases children first year to lifes in Ukraine]. Perinatologiya i pediatriya. 2010;1(41):6-9. (in Ukrainian).
Mylovanov AP, Savelev SV, editors. Vnutriutrobnoye razvitiye cheloveka: Rukovodstvo dlya vrachey [Innerable human development: a guide for doctors]. Moscow: MDV; 2006. 384 p. (in Russian).
Kucherov YI. Taktika neonatoloha pri vrozhdennykh porokakh razvitiya novorozhdennoho [Neonatologist's tactics in cases of newborn congenital malformation]. Pediatric pharmacology. 2012;9(6):17-22. (in Russian).
Zozulia YuA, Orlov YuA. Poroki razvitiya pozvonochnika i spinnoho mozgha [Malformations of the spine and spinal cord]. Zdorov`ya Ukrayiny. 2007;17:15-9. (in Russian).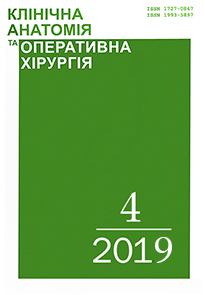 ##submission.downloads##
Ліцензія
Авторське право (c) 2020 Клінічна анатомія та оперативна хірургія
Ця робота ліцензується відповідно до Creative Commons Attribution-NonCommercial 4.0 International License.
ВІДКРИТИЙ ДОСТУП
а) Автори залишають за собою право на авторство своєї роботи та передають журналу право першої публікації цієї роботи на умовах ліцензії Creative Commons Attribution License, котра дозволяє іншим особам вільно розповсюджувати опубліковану роботу з обов'язковим посиланням на авторів оригінальної роботи та першу публікацію роботи у цьому журналі.
б) Автори мають право укладати самостійні додаткові угоди щодо неексклюзивного розповсюдження роботи у тому вигляді, в якому вона була опублікована цим журналом (наприклад, розміщувати роботу в електронному сховищі установи або публікувати у складі монографії), за умови збереження посилання на першу публікацію роботи у цьому журналі.
в) Політика журналу дозволяє і заохочує розміщення авторами в мережі Інтернет (наприклад, у сховищах установ або на особистих веб-сайтах) рукопису роботи, як до подання цього рукопису до редакції, так і під час його редакційного опрацювання, оскільки це сприяє виникненню продуктивної наукової дискусії та позитивно позначається на оперативності та динаміці цитування опублікованої роботи (див. The Effect of Open Access).